How Conventional Design Process Works?
Posted by Prahlad Parmar on January 29th, 2014
The conventional design process typically works in the form of intricately analyzing client specifications and design requirements, and deriving innumerable design equations and numerical analysis to facilitate the process of creating the final design. The design is then send to the client, architects, and engineers for revision and validation. The process is typically complex and straight-forward, which does not rely upon computer-aided tools and techniques.
However, modern designs, based on 3D representations and CAD techniques, streamline the process and minimize the need for expensive reworks and modifications at a later stage.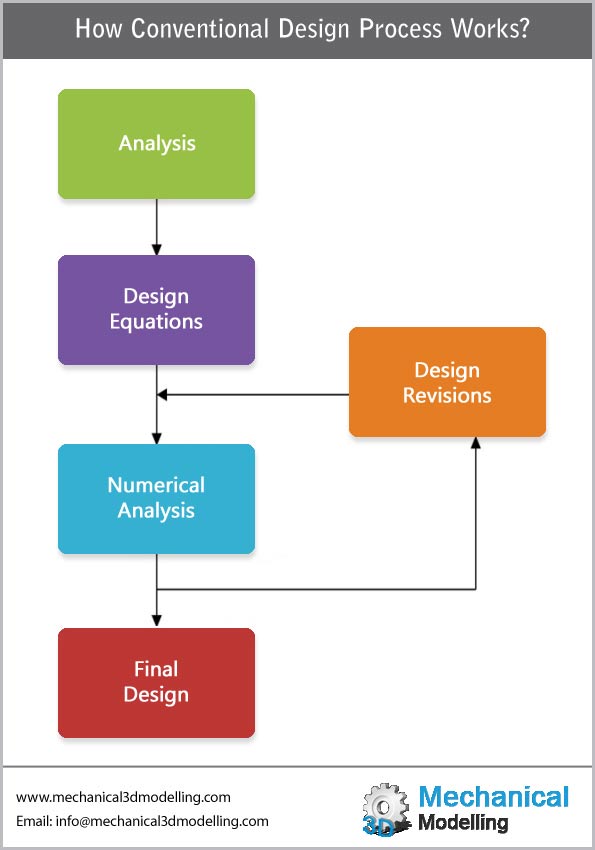 Discussed here is how conventional design process works –
1.Analysis – Client specifications and design requirements are collected, which are then thoroughly analyzed to generate specific design details. This is one of the most important steps in conventional design process since based on such analysis report that the final design will be created.
2.Design Equations – A comprehensive analysis report is provided, based on which complex design equations are derived by professional experts.
3.Numerical Analysis – The design equations facilitate in the process of numerical analysis, which is one of the most important stages in conventional design procedure. Numerical equations and analysis is significantly important in creating a final design.
4.Design Revision – Based on numerical analysis and client specifications, a conceptual design is created, which is then sent for revision. If the design is perfect, the final design is created; if not, it is send for modifications where design equations are again derived from scratch and numerical analysis is performed.
5.Final Design – Once necessary modifications are done, the final design is created as per specific client requirements.
For more information, please email us at [email protected]
About Author: Prahlad Parmar is an Engineering Specialist working at Mechanical 3D Modelling for the past 4 years. He caters critical engineering challenges with ease and performs exhaustive procedures to develop robust, well-engineered and high performance designs. He can always be found in the lab discussing, brainstorming and tweaking designs.