Characteristics of an Ideal Machine Drawing
Posted by Prahlad Parmar on March 1st, 2013
Designing of machine parts is the most basic step in any manufacturing process and it must be dealt with extreme care. If any error or flaw exists in the design, it will be carried and multiplied in the subsequent manufacturing process and hence it is highly essential to eradicate the error at the designing step itself.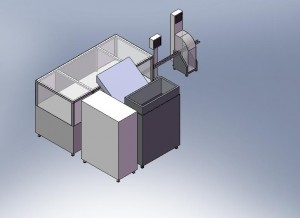 An Ideal Machine Design must have the following characteristics:
Text must be separated from the design, have its defined layer so that it is recognizable as text
There should be no reluctance in creating new layers
Separate layers for dimensions, text, body, hidden lines, centerlines etc.  must be generated
The final output obtained must be editable and it should be preferably in DXF or DWG format
Dimensions must be intact and must be shown by a separate layer again
Blocks for different entities such as doors, windows, plumbing fixtures, electrical fixtures, etc. must be used separately as per the requirement
The traditional way of making drawings is hectic and has a huge chance to turn out erroneous. Advanced CAD software is hence used to provide a comprehensive approach for meeting the requirements of Machine design.
3D design data can be effectively used at every stage of the development process to achieve accurate outputs.
The Entire Machinery Industry is divided into two broad categories:
Machines that are designed from concept for one specific customer
Machines that are designed to be sold in volume to many, as-yet-undetermined customers
The three dimensional CAD let the client experience better, faster and more accurate machine designing service. Also the advanced CAD software like SolidWorks is capable to automatically create and store numerous configurations of the same design.
Hence when the designer modifies the designs, all the necessary drawings are also modified and are ready to be printed.
About Author: Prahlad Parmar is an Engineering Specialist working at Mechanical 3D Modelling for the past 4 years. He caters critical engineering challenges with ease and performs exhaustive procedures to develop robust, well-engineered and high performance designs. He can always be found in the lab discussing, brainstorming and tweaking designs.