Applications of the Thermal CFD Services
Posted by Prahlad Parmar on March 28th, 2013
CFD is a technique that helps in determining the behavior of the fluids flowing within a closed system against different types of internal and external parameters.
The functional roles of fluids in any form can be established by implementing the relevant numerical equations pertaining to the different fluid flow patterns. Different thermal CFD services are being applied in a wide range of industries such as product manufacturing industries, chemical processing units, automobile industries, aeronautical industries, food processing industries, leather industries etc.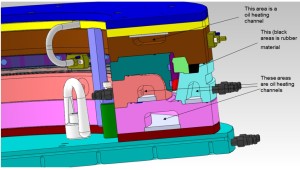 Moreover, in this advanced computing infrastructure era, thermal CFD services are also applied in data centers in order to analyze the heating and cooling patterns of different components used in the data centers. Different types of information technology clients make use of computational fluid dynamics for computing hardware manufacturing industries, data center designing companies and the data center operators.
With the help of these improved modeling and simulation techniques, it is possible to reduce the chances of any type of functional discrepancies within the systems during operation. Performance of digital components is optimized by efficiently depicting the fluid performances within the systems. This ultimately helps in significant saving of time and cost in completion of any type of simple or complex engineering processes.
Software for CFD Services are as follows:
•    ANSYS Design Modeler / Meshing
•    ANSYS CFX/ Fluent
•    OpenFOAM
•    ParaView
•    HYPERMESH
•    Star CCM
Main goal behind the thermal CFD services is to identify and resolve any heat transfer issues or any thermal flow issues related to particular fluid operating within the system. There are different types of CFD codes, which are being implemented in the system, based on the specific needs and requirements. The most essential point to consider for CFD professionals is to keep track of the codes that suit the system perfectly.
All the above software tools make use of the intelligent CFD techniques in order to envisage the different essential factors such as the airflow patterns, heat transfer ratios and temperature differences among the different engineering components.
About Author: Prahlad Parmar is an Engineering Specialist working at Mechanical 3D Modelling for the past 4 years. He caters critical engineering challenges with ease and performs exhaustive procedures to develop robust, well-engineered and high performance designs. He can always be found in the lab discussing, brainstorming and tweaking designs.