We support design and manufacturing of industrial burners through our expertise in digital design development, enabling manufacturers to develop efficient combustion equipment for furnaces and boilers.
We have a team of mechanical engineers, simulation specialists and domain experts who have developed extensive experience on factors affecting the performance of burners such as combustion, modulation range, reaction chemistry influence, temperature effects and air-fuel ratio.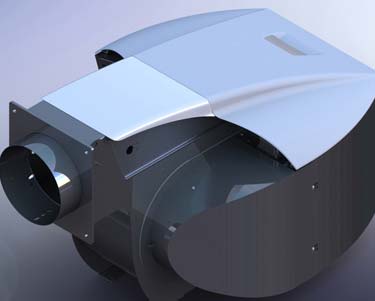 From developing design information in 2D CAD drawings and detailed 3D CAD models for burners to performing virtual simulation for combustion characteristics, emission levels and structural integrity, we develop comprehensive design information to assist engineers in taking informed decisions quickly.
We also help industrial burner manufacturers with all types of burner parts design including actuators, air & gas pressure switches, flame monitoring equipment, gas meters, gauges, regulators, spark rods/igniters & flame rods, strainers, temperature controllers, thermocouples, valves, vaporizers, ventilation equipment, etc.
Our Services for Industrial Burners Design:
Legacy design data conversion for burners to 2D CAD drawings
Detailed manufacturing drawings with BOM
3D CAD modeling, rendering and assembly animation for burners
Combustion analysis, pressure drop analysis, flame propagation and temperature field studies on solid and fluid using CFD
Stress and strain analysis, non-linear buckling analysis, thermal cycling fatigue and failure analysis using FEA
Our industrial equipment design service delivery experience is for major types of burners utilized for industrial applications including direct fired burners, radiant tube burners, regenerative burners, high thermal release burners and self-recuperative burners.
Software Expertise: