All About Converting Paper Drawings to CAD
Posted by Jaydeep Chauhan on November 6th, 2018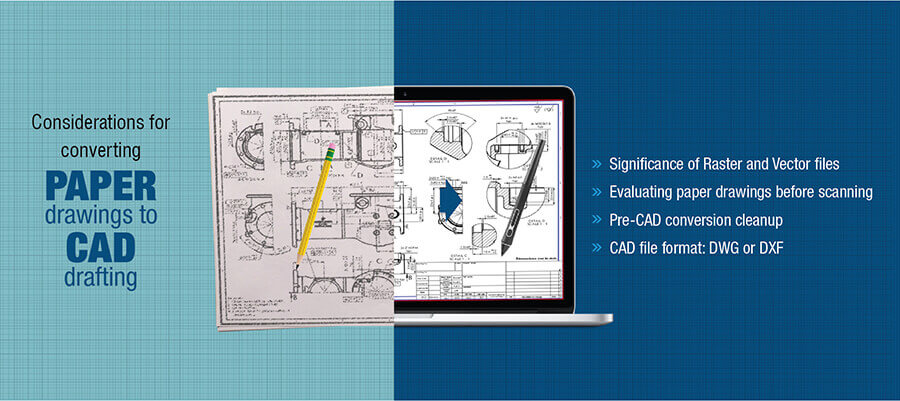 Although the industrial designing industry has shifted to CAD modeling and drafting, there is a whole bunch of manufacturers and fabricators who have legacy designs stored in form of paper drawings and blueprints. Also, there are engineering design firms wherein design engineers and consultants prefer a hand sketch for initial designs.
But what happens is these paper drawings are just physical drawings. They need digital backups (digitized drawings) and engineers need them in vector form like in CAD to edit them without any hindrance. This write-up is thus a guide about all that you need to know regarding converting paper drawings to CAD format by scanning the drawings and translating the raster into CAD 2D/3D file.
When can a drawing on paper converted to CAD?
Converting legacy designs from paper to CAD sketch is one of the most common scenarios wherein CAD scanners and drawing scanners are involved to do the conversion. For example, as a design firm, you may have ventured into a partnership with the manufacturing company to deliver designs for a certain product like the commercial kitchen counter made of sheet metal. You already have done multiple projects for the same industry and also dealt with same kind of projects in the past.
Consequently, your engineers and CAD drafters are now an expert at it and the 3D CAD modeling project partnership is only like a cake-walk. And the designs for this newly bagged project, too, are pretty much common, with some changes and varying CAD dimensions.
However, since all your past deliverables were drawing on a physical paper or drawings sheet, importing the parts from there isn't an open option for you. You'll need to re-draw the entire commercial kitchen counter and stalls from counter to steel frame, cabinets, girder and everything else. It will cause you to have elongated engineering design cycle and approvals will also take time. There are complete chances that your design firm will lose it to your competitor who uses AutoCAD for a long time.
Such are the instances when you need scanning of the drawings, draw it to proper scale in AutoCAD and share it with the client – the manufacturing firm in this case. This channelizes energy, time, cost and efforts in an efficient direction rather than drawing everything from scratch.
In this case, if the commercial kitchen counters manufacturing firm has these AutoCAD files, they don't even need to partner the CAD service providers firm. Each time there are slight variations in designs a mid-skilled in-house drafter will do the job.
The significance of Raster and Vector files during scan to CAD conversion
One thing is clear that paper drawings and hand drawing are only for the initial referencing, and editing a drawing is hard. They need to be converted to a blueprint vector by converting to CAD. Digitized drawing means translating paper drawings into .DWG formats and further into .DXF files for seamless manufacturing integration. These are vector formats that hold masses about each individual element of the drawings and are readable by CAD platforms like AutoCAD.
Secondly, vector files are resolution independent that is to say that no matter how much zoomed in the object is on screen almost no distortion is observed. While raster files are graphics made of pixels, vector graphics are made of objects like lines, arcs, B-Splines, Poly-lines, types of curves like Bezier etc. Designer or the CAD operator can easily edit each of these individual entities without affecting the rest of the object.
When the paper drawings including images, hand drawings, sketches, and blueprints are scanned with machines they are automatically scanned and converted to Vectors. Automatic tracing and scanning has an advantage of accuracy and is time efficient.
Evaluating paper drawings' suitability for scanning
Once the designer and the manufacturer is clear of raster and vector file formats and the importance of turning to vector formats like DWG and DXF files, the next question is what kind of drawings can be scanned?
Conversion software is only able to work and deliver output based on the quality of inputs. When a drawing is assessed whether it can be converted or not, drawing size and clarity both need evaluation. Some sketches and blueprints way too small to be scanned and trying to offset this with resolution might cause the rest of the scan to faint and diminish the credibility of the scan.
Another factor to be taken into account for drawing evaluation is the gravity of lines obscurity in the drawings. If too many lines are overlapping by texts and footnotes for manufacturing instruction, it will be nearly impossible for the drawing scanner to read the sketch.
Selecting the right kind of scanner, predefining the quality, color, and output with the client the CAD drafters should start transforming to CAD blueprints. The most appropriate resolution taken as input is between 200 and 400 dpi in monochrome or grayscale. Ideally, scanners will deliver TIFF files, but other formats like BMP and PNG, too, are widely used. Also, it is a common preference that JPEGs are usually avoided as they tend to sacrifice the image quality and hence the design intelligence.
Pre-CAD conversion cleanup
Before the conversion from raster to vector starts, the CAD drafter needs to eliminate basic errors. Practically during the scans, there are unwanted elements that are included, which are basic errors and causes difficulty in reading the file when making CAD models or drawings.
Tools like "Remove holes" for tiny holes and "Flood Fill" for big gaps are used to correct the missing gaps and holes. Simultaneously, "Smooth" and "Remove Speckles" functions will easily remove the hairs and inconsistencies from the line, marks scanned from the paper, and any noise in the background.
Selecting an appropriate CAD file format: DWG or DXF
Once the pre-conversion cleanup is done, CAD design engineer needs to select an appropriate file format for efficient downstream operations. However, the two most widely used formats are DWG and DXF. Both of them allows editing individual entities, reusing them and saves time in future to create similar elements as in case of the above example of the commercial kitchen counter. Both these formats are vector formats and hence inherit all the properties of a vector file.
However, DXF file is a more universal file format and will be supported by any CAD platform and data exchange between AutoCAD to SolidWorks or Inventor is possible with it. Furthermore, when CNC machine programs are to be made, DXF files come in handy in deciding strategic points and developing the N-Codes and G-Codes. Selecting a file format should be based on the immediate next stage in the product design stage since converting from DWG to DXF and or vice versa is always possible.
Steps to convert paper to CAD/Raster to Vector
Whether it is converting from TIFF or PDF to DWG to DXF, the process remains identical.
Initially, the file is loaded to the suitable CAD scanner and CAD converter and selecting the type of drawing will set the appropriate vectorization setting for the conversion
Select the part that you need to convert into a vector and simply click on vector
Saving this file and changing the preview will allow you examining different settings and saving the one that is preferred. Post the conversion, the cleaning and patchwork is done by the designer or the project engineer to ensure the accuracy of the drawings in CAD format and maintain the quality. Also, there is a tool for batch processing to automate the process when there are multiple scans to be converted to CAD.
The process seems simpler, but it needs extensive expertise and experience to achieve desired accuracy and quality of the final CAD models and drawings. To ensure this, best option is to partner an offshore CAD drawing and scan to CAD conversion company that has rich experience with a physical presence near you too.
About Author: Jaydeep Chauhan is an Engineering Specialist working at Mechanical 3D Modelling for the past 1 year. He caters critical engineering challenges with ease and performs exhaustive procedures to develop robust, well-engineered and high performance designs. He can always be found in the lab discussing, brainstorming and tweaking designs.