We are a leading mechanical drafting design service provider company in India, delivering accurate mechanical CAD drafting services using SolidWorks to improve product design development processes. We help our clients in converting their conceptual ideas, blueprints and sketches to standard & precise 3D engineering drawing for actual production.
Our CAD professionals provide 3D CAD drawings, SolidWorks 3D to 2D drawings for manufacturing, engineering, assembly, sheet metal, machining and casting requirements. We have wide experience in delivering SolidWorks drafting services and CAD Conversion services using AutoCAD for sheet metal parts/fabrication, tool design, aluminum sheeting and other metal products for automotive, OEMs and ancillaries, furniture manufacturers and engineering design firms.
Our mechanical services include 2D CAD drawings, GD&T, mechanical shop drawings, fabrication drawings, isometric drawings, as-built drawings, patent drawing, etc.
Being in the industry for more than 20 years we have extensive experience in providing, casting, machining, and sheet metal drawings to manufacturers, fabricators, engineers and designers. Our skilled mechanical drafting team work closely with the client's engineering team providing innovative and high-quality drafting services ensuring that the client receives professional CAD services with the highest accuracy.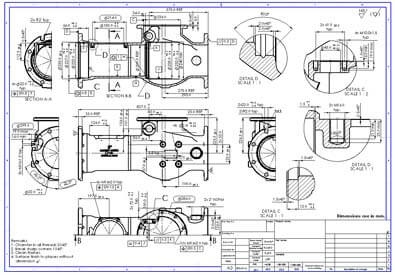 Our mechanical CAD drafting services are extended for industrial equipment such as pressure vessels, plant layouts, jigs and fixtures and mechanical components.
Our Mechanical Drafting Services includes:
Concept to 2D mechanical drawing for major industrial equipments and devices
Convert existing 2D or 3D legacy data into SolidWorks Parts, Assemblies & drawings
Paper to CAD conversion and PDF to CAD Conversion for developing manufacturing ready drawings
SolidWorks assembly drawings with exploded views and integrated Bill of Materials
Create SolidWorks 3D models from concept sketches, images or written instructions
Providing GD&T and P&ID drawings to assist in maintaining accuracy in manufacturing process
3D SolidWorks Drafting Support – Use SolidWorks part or assembly files to create ASME Y14.5 standard fabrication drawings
Provide high quality and accurate shop drawings for fabrication
CAD drafting solutions for mechanical components/parts
SolidWorks animations and renderings
We have specialization in following Sheet Metal Conversion services:
Convert Standard Part to Sheet Metal Part with Inventor
Convert a hollow solid part to sheet metal flat pattern(s) with SolidWorks
Convert pipe from solid modelling to sheet metal/weld using SolidWorks
Why Outsource CAD Drafting Services?
We deliver CAD drafting services for Building Metal Products like steel framing, metal doors, frames & windows, roofing, siding, prefabricated metal building components, metal furniture design, construction equipment, heavy machines, plant design etc. With flexible business models, we deliver design information with required CAD standards in form of 2D detailed manufacturing and technical drawings to meet shop floor requirements.
Case Studies