We provide pressure vessel design services to industrial equipment manufacturers across the globe.
With proven expertise and experience in pressure vessel and storage tank design development services, our design engineers provide manufacturing and fabrication drawings along with 3D models as per country-specific regulatory standards and codes.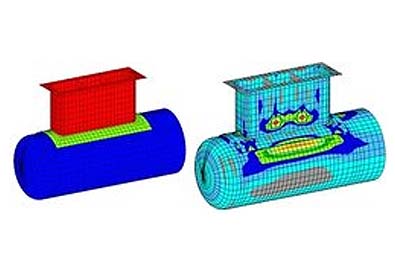 Our firm delivers ASME code pressure vessels and tanks design support to customers acroos the globe. Our business provides pressure vessel (PV) engineering and design services to companies that do not want to maintain an in-house engineering staff. We also provide pressure vessel engineering and design services to customers that do not want to contract a third party pressure vessel engineering and design firm that will not be involved in the actual production and custom fabrication of the pressure vessel or tank.
To enhance the design process further, we also conduct finite element based simulations to perform virtual testing as per BPVC codes and help clients in predicting pressure vessel design strength and safety prior to manufacturing.
Our Pressure Vessel Design Services includes:
Manufacturing and layout drawings for fabrication and installation
Custom pressure vessel design development as per ASME codes
3D modeling for piping runs and surrounding obstructions
Finite element analysis for structural and fatigue life estimation as per ASME guidelines
We can provide mechanical design and fabrication drawings for many types of pressure vessels for different applications and industries. Our team has experience of many years for adopting client specifications to the latest British, European and American codes.
Our firm specializes in ASME code pressure vessel engineering and design services. Types of ASME compliant pressure vessels and tanks that we design include the following:
ASME Code Compliant Tanks and Pressure Vessels
Pressure vessels, settler vessels, Compressed air vessels, cooker vessels (jacketed steam-cooker vessels), pulp and paper steaming vessels, Vertical water softener vessels
Boiler steam drums
Specialized boilers for the power generation industry
Hydraulic Accumulators and Pneumatic Accumulators
Storage tanks, mixing tanks, pressurized tanks, filter tanks, flash tanks, rubber lined tanks, blow down tanks, process tanks
Stripper columns and towers
Pressure reactors (reactor pressure vessels)
ASME separators
Specialized heat exchangers
Distillation towers (industrial fractionating columns)
Oil and gas refinery pressure vessels
Pressure vessels used as separators
Cyclone separators
Industrial autoclaves
Deaerators
Case Studies